Resource Download
How Whispir works to protect your privacy and data
In order to keep your data safe and protected, Whispir has a number of security protocols in place. In this mini guide, we'll go through just some of the features available to our customers to help secure their accounts and follow industry-best practices.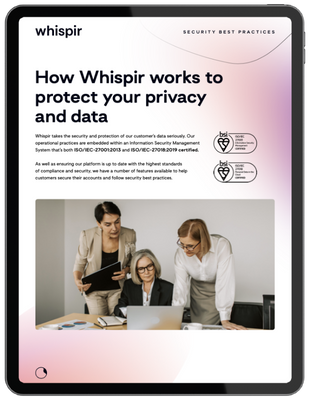 What you'll learn:
The importance of online security:
Why you should be taking measures to keep your online accounts safe, including the Whispir platform.

Available security features:
Discover various security features available on the Whispir platform - including two-factor authentication, Single Sign-On, message redaction, and more - and how to enable them.
Whispir's certifications:
Learn more about our ISO certifications and what they mean for you.