Resource Download
HR: Acquire, onboard, and retain the talent you need
Whispir templates make it easy to recruit top talent, streamline the onboarding process, and retain employees – all while taking work off your plate.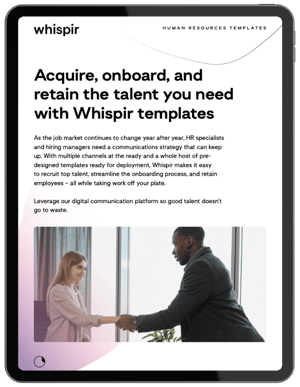 What you'll learn:
How to maximize your organization's communications:
With personalization, omnichannel engagement, consistency, automation, and being proactive.

Ways to nurture talent with reliable and proven comms:
Create engaging and human-centric experiences - from recruitment to retention - with intelligent messaging tools and pre-designed templates.
How Whispir helped a major manufacturer transform its recruiting and retainment strategy:
Meeting a sharp increase in product demand with a hiring process that is both quick and scalable.
How automatic workflows make engagement easier than ever
Using "select and send" templates.