Resource Download
The key to saving costs? Call deflection and interactive voice response
From roadside assistance to banking, see how call deflection and IVR deliver cost savings and better customer experiences to organizations across the globe by downloading our free guide.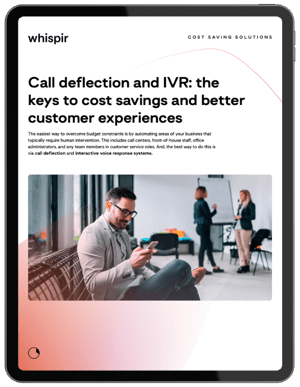 What you'll learn:
What call deflection is and why it matters:
Including the three main benefits, plus common use types for call deflection.

What IVR is and how easy it is to deploy:
As well as a step-by-step graphic illustrating how IVR works.
How others have leveraged Whispir for cost savings:
This includes examples from RACQ, ANZ Bank, and Whispir's partnership with Amazon Connect.
The ways Whispir can help any industry type:
From more communication channels to SMS, and statistics that show off the effectiveness of call deflection.