Resource Download
How donations to Best Buddies increased 500% with Whispir SMS
Best Buddies needed a reliable, customizable, and low-cost channel to boost engagement, grow their community, and quickly hit fundraising goals. See how Whispir SMS helped them exceed their goals and create a better experience for their audience.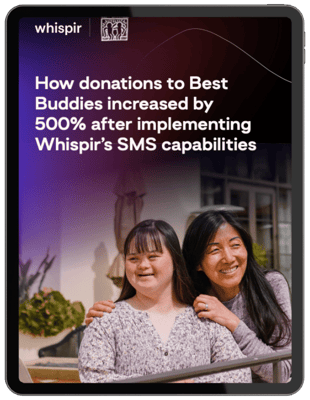 What you'll learn:
The challenges that Best Buddies faced:
Best Buddies was in search of a better way to reach and incentivize potential donors while meeting aggressive fundraising goals and keeping their community engaged and informed.
This included:
Lack of channels

Low speed of engagement

No centralized platform

No customization
The solutions provided by Whispir SMS:
Best Buddies chose Whispir based on the platform's ability to better communicate with their audience and confirm that recipients were receiving their messages.
Solutions include:
Proven click-through and open rates

Personalized SMS

Low-costs and big ROI

High volume capabilities

Full transparency with real-time reporting
The key benefits:
A look at the actual donation numbers and year-over-year increase that Best Buddies now enjoys, including more employee engagement.
And more