Resource Download
Increase SMS opt-ins with these 3 easy steps
The first step in any SMS marketing campaign is the initial opt-in consent. Without this step, you could be leaving yourself open to multiple issues. In this quick guide, we'll look at a few ways you can encourage your audience to opt-in to future SMS messaging.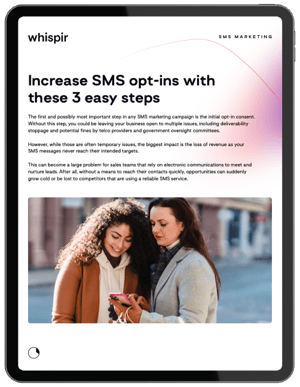 What you'll learn:
Why you should provide opt-in opportunities:
Whether the opt-in is part of your website's contact page, a resource agreement, within emails, etc.

How incentives help when it comes to opt-ins:
Including a few examples of perks that you can use to entice more users to opt-in to your communications.
Why a clear terms of acceptance is key:
As well as a bonus tip for including all the necessary information without overloading the user experience.