Resource Download
2023 Talent & Retention Guide: 5 strategies HR teams need to succeed
With unprecedented candidate competition in 2022 and newfound employee expectations, organizations are looking to overhaul their hiring and retention strategies for 2023. In this guide, you'll see what industry-leading HR teams are focusing on and how you can implement these tactics, too.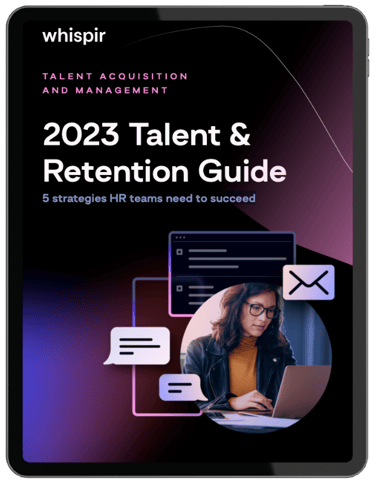 What you'll learn:
What the current state of talent acquisition looks like:
How HR leaders are navigating the ever-changing state of the candidate market heading into 2023, including an influx of new candidates, The Great Resignation, and employees looking for more than the traditional office culture.

How to create better candidate journeys:
From automation to multiple channels, personalization, and quick, intelligent application paths that remove barriers for potential hires and enable thin hiring teams to do more with less.
Ways to retain talent in 2023 and beyond:
We break down talent retention into four primary categories, including: championing work-life integration, reducing burnout, prioritizing and promoting internal mobility, and aligning company values with employee priorities.
What other leaders in the HR world have to say about talent acquisition and retention:
Including a host of stats and graphs that paint a clear picture for companies and their HR teams moving into 2023.
And more!